Electric guitars
* Duesenberg Starplayer II (Surf Green)
She bought it by installments in her amateur days.
* Duesenberg Starplayer TV (Silver Sparkle)
* Duesenberg Starplayer TV (black-and-gold checkered pattern using gold leaf)
This guitar is her signature model, "Ichimatsu (市松)". This was sold as the limited edition of Shiina Ringo's 5th anniversary.
* Duesenberg V-Caster (Surf Green)
* Fender Jaguar Special (made by Fender Japan)
* Fender Telecaster (custom-made by Fender Japan)
* Fender Stratocaster (Jimi Hendrix tribute)
* Gibson Firebird
* Gibson Flying V
* Gibson RD Artist
* NAGARE (Blue)
This guitar is based on Fender Jazzmaster, and is equipped with the flashbulb, so it shines while playing. it doesn't make a sound unless opening a lock with a key.
* Rickenbacker 620 (Jetglo)
She bought it with her royalties received first.
* Tele Phantom (Red, made by Songbird guitar)
This guitar is using "Vox Phatnom markⅥ" as the motif, and is the same model of the guitar of Ukigumo except a color.
* etc.
Acoustic guitars
* K.Yairi FK-1J
from all the guitars the Rickenbacker 620 i love the most.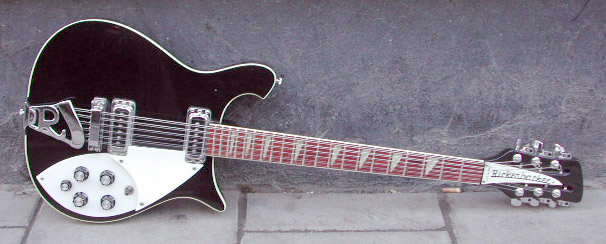 The Rickenbacker 620 is a solid-body guitar manufactured by the Rickenbacker Company. It is part of the 600 series of guitars which all share the distinctive "cresting wave" styled body. The Rickenbacker 620 features triangular fret markers, a thick rosewood fret board, a maple body with neck-thru construction, and maple neck. The 620 also comes standard with a stereo output jack. The guitar's pickups are twin single coil 'Hi-gains'. The Rickenbacker 620 sports the Rickenbacker signature, an 'R' style tailpiece. There is a twelve string version of this guitar available, the Rickenbacker 620/12. The Rickenbacker 620 comes in fireglo, mapleglo, jetglo, and midnight blue finishes from the factory.[1] The 620 is less popular with big recording artists as its siblings the 330 and 360, however some guitarist have consistently used them including Chris Urbanowicz of Editors. Mike Campbell of Tom Petty and the Heartbreakers received the very first 620/12 12-string (made in December 1963, actually called a prototype 625/12), and has used it on hits such as Listen to Her Heart and Here Comes My Girl.
(wikipedia)
Features at a Glance
* Body Type Solid
* No. Frets 21
* Scale Length 62.9 cm (24 3/4)
* Neck Width at Nut 41.4 mm (1.63)
* Neck Width at 12th Fret 49.05 mm (1 .931)
* Crown Radius 25.4 cm (10)
* Weight 3.6 kg (8.0 lbs.)
* Overall Length 94.0 cm (37)
* Overall Width 33.7 cm (13 1/4)
* Overall Depth 31.8 mm (1 1/4)
* Tailpiece R
* Bridge 6 Saddle
* Output Type Mono and Stereo
* Machine Heads Schaller
Notable players
* Mike Campbell of Tom Petty and the Heartbreakers
* Steven Van Zandt of Bruce Springsteen
* Susanna Hoffs of The Bangles
* Chris Urbanowicz of Editors
* Ringo Shiina of Tokyo Jihen, who also mentions her 620 in the song Marunouchi Sadistic (love shiina <3 <3 <3)